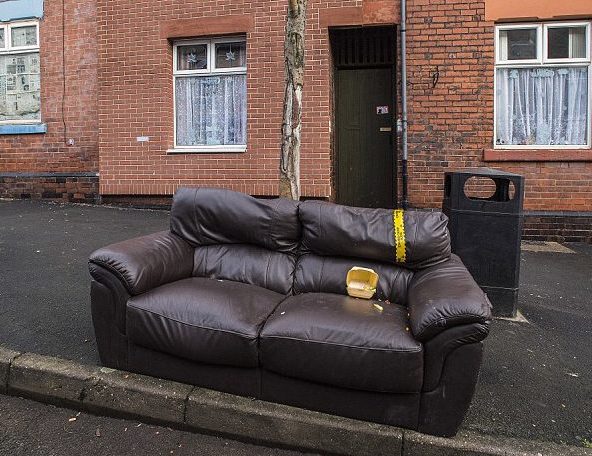 Eastwood Unveils Revolutionary Scheme To Lure Elderly Shoppers
2017-11-27
---
This week's report from over 55's charity Anchor, has revealed that one of the major factors preventing older people from shopping independently is the lack of seating in shops and shopping centres. The survey found that older people are often put off going shopping because there's nowhere for them to rest. Well now, residents of one area of Rotherham have decided to take matters into their own hands, in an attempt to lure older shoppers away from the big centres like Meadowhall and Retail World at Parkgate.
Stroll just a few steps from the upmarket boutiques, chic café's and specialist food outlets on Fitzwilliam Road in the Eastwood area of the town and you will find that residents on local side streets have taken to leaving sofa's, chairs, and in some cases mattresses, out on the pavement so that fatigued older shoppers can take a well-earned break before continuing to peruse the retail delights on offer in the area.
"It's fantastic," said Reg Blather, 77 from Brecks as we caught up with him taking a break on a soggy beige dralon settee on Selwyn Street. "There's always somewhere to sit down here, and there's even a fridge and washing machine which will come in handy if the area ever gets reconnected to the grid."
Our reporter also noticed several elderly shoppers taking advantage of an impromptu roadside 'restroom'  which locals have helpfully set up for shoppers,  "I can't be too far away from a lavvy at my age," said a clearly relieved Ray Gun, 83 from Whiston, "so this  grate is a big help. But I will remember to bring my own paper next time."
A spokesperson for Rotherham Borough Council declined to comment, but confirmed that they were aware of the scheme, and similar ones in the East Dene, Thrybergh and Canklow areas of the town which have been running successfully since 1972.