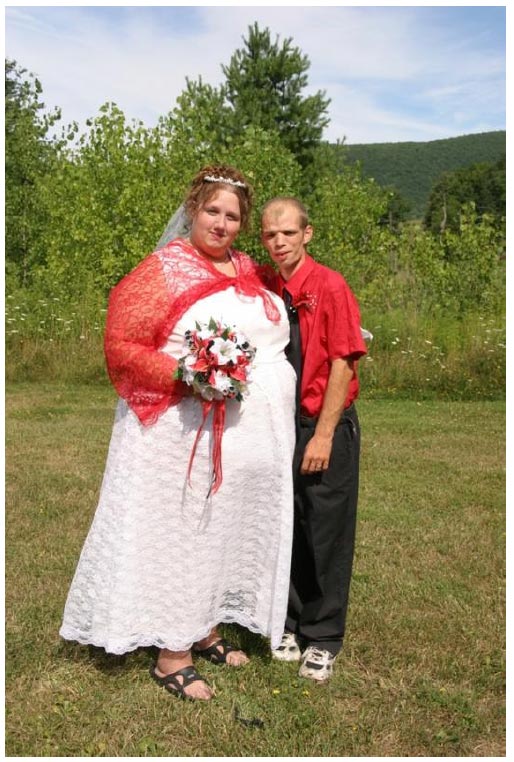 Barnsley Man Set To Wed Unrelated Woman Who Doesn't Live On The Same Street
2017-10-23
---
A man from Wombwell has stunned friends and family by making plans to marry a woman who isn't a  relative, and doesn't even live on the same street.
Brandon Pickersgill, 22 is set to tie the knot with mum of three Britney Hardcastle 18 , who was brought up nearly three quarters of a  mile from his house on Pickup Crescent. The couple have beem forced to hire a larger than usual venue for next months wedding reception because incredibly, they each have their own friends and family.
"I know people will think it's a bit odd " said Brandon " because there are four free lasses on our street already, including my Auntie Julie who just got divorced and my half sister who'll be 16 in a couple of months,. Folk are saying that should be enough choice for anybody but I met Britney when we were both haggling over some slightly out of date bag in Barnsley market, and it was love at first sight."
Bullmastiff owner Britney, who recently won a national competition to find the woman who looks most like her dog, takes up the story.
"I've seen people looking and I know they're pointing the finger but we dunt care. Everybody knows about the rumours that we've probably got the same grandad. You'd think that would be enough but apparently not because nowts been proved. It's not as if he's marrying somebody what dunt speak dingle."
Brandon's family are still struggling to come to terms with his decision. "It's going to be hard having a stranger in the family " said dad Dean who followed local tradition by getting his cousin pregnant just before  she took her mock GCSE's, "Who's going to watch out for their kids when they're out on the piss or out of their skulls on weed? They're going to be living three streets away, and there's only a bus once a fortnight. It's madness."
If you liked this article, you'll probably like The Big Buttock Tattoo. It's a compilation of our best articles over the past 12 months. It costs next to nothing and all proceeds go to charity. For full details click here.